APPOINTMENTS
As of 2023, I have refocused my energy into my lifestyle domination pursuits over my professional ones, however, I am still providing appointments as and when I can and/or feel like it. After a decade in this line of work, I have become extremely selective in who I bestow my time and expertise upon. I am not interested in one-off liaisons or shallow interactions. There is far too much to me to squander in such a way.
I am a truly innovative, spontaneous and meticulous creative. Every experience with me is unique. My affinity for Femdom and interest in BDSM lies within the mental and psychological sphere. For me, the electric exchange that happens between two souls during an encounter is insurpassable. It is my mana. The gift of physicality that follows is a boon. To quote Keats:
"The point of diving in a lake, is not immediately to swim to the shore, but to be in the lake; to luxuriate in the sensation of water."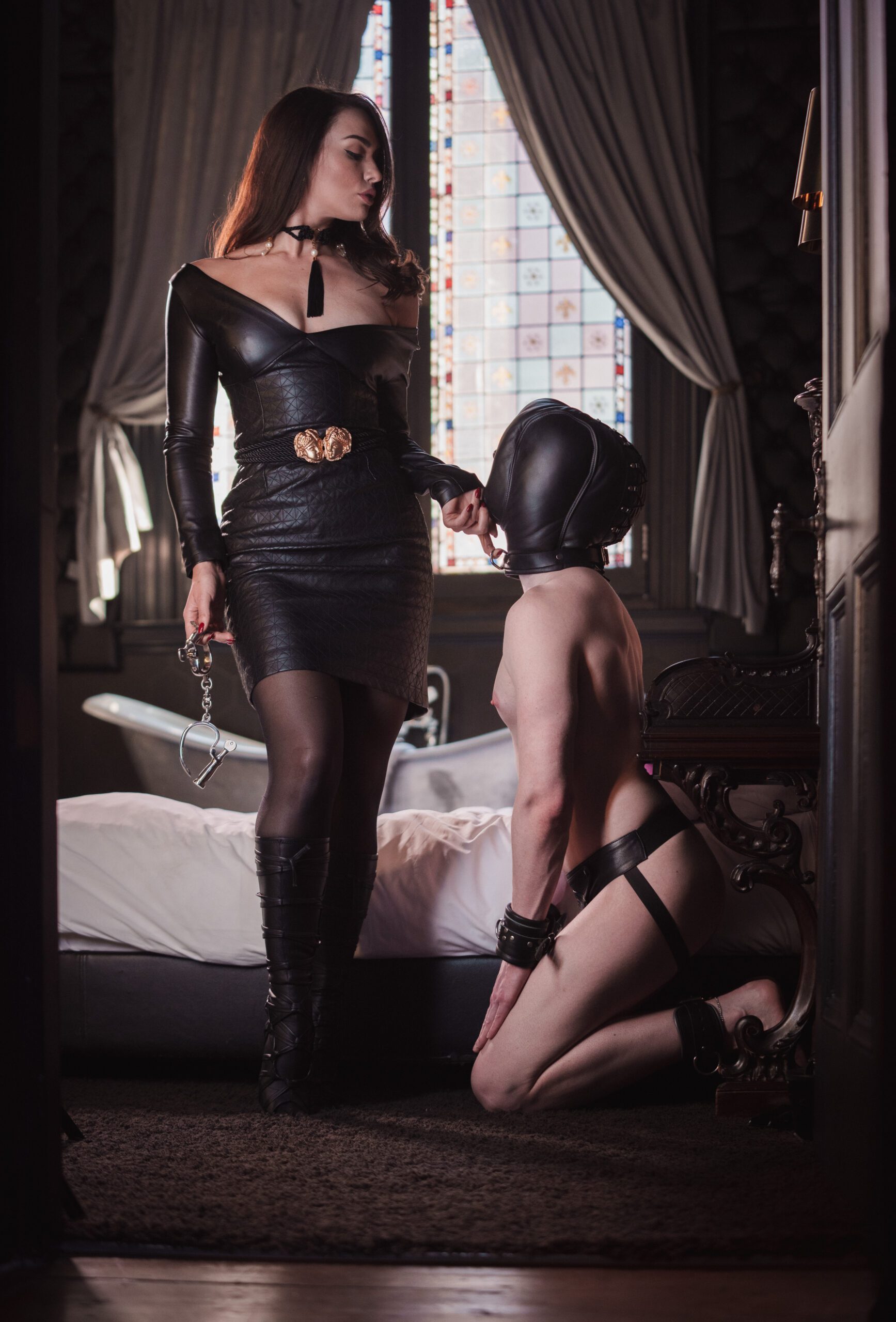 INTERESTS
​
I DO NOT OFFER ANY ILLEGAL ACTS, INTIMATE BODY WORSHIP, PENETRATIVE OR OTHER SEX ACTS (HAND / ORAL 'RELIEF'), KISSING, HARD SPORTS OR AGE PLAY.
Anal Play
Ball Busting
Bastinado
Breath Control
CBT
Caging
Chastity (inc. Keyholding)
Clothed Queening / Face sitting
Corporal Punishments
Domestic Chores
Double Domination ​
Electro Play
Financial Domination
Foot Worship
Forced Bi
Heel/Boot Worship
Human Furniture
Human ashtray
Humiliation
Ice & Heat play
Milking
Nipple Torture
Needle Play
OTK
Pegging ​
Pony Play
Puppy Training
Restriction
Rope Bondage
Sensory Deprivation
Sissification
Slapping​
Smoking Fetish
Smothering
Sounding
Spanking
Spitting
Suspension
Tease & Denial
Tie & Tease
Watersports
​THE DETAILS
Mutual respect is extremely important to me. I will respect all of my subject's boundaries, and I am totally aware that everyone has different limits – I will not push you in any direction you do not wish to go unless it is requested or mutually agreed upon. On top of this, I also know that some fantasies are just that – fantasies – I will not ruin your experience by making you do something you would prefer to keep on the periphery of reality.
I require a non-refundable deposit to be paid within the 24 hour period that begins immediately after we have arranged a time and date for our appointment. After this grace period, I will not be able to guarantee that the proposed time and date is still available. 
I am only open to seeing new clients that are able to send me a copy of their photo I.D during the application process. Your I.D. will be uploaded to a GDPR compliant, end-to-end encrypted cloud service named Tresorit which automatically terminates access to the uploaded document 7 days after receipt.
If you decide that you cannot attend our session, you must inform me at least 48 hours in advance, otherwise I cannot allow you to use your deposit to reschedule another appointment with me. You must be respectful of the fact that it takes a lot of my precious time to prepare myself and the dungeon as well as my vanilla engagements for our time together. Time wasters will not be tolerated, and no-shows will be automatically blacklisted.
All bookings require a courtesy confirmation email on the morning of our appointment.
I expect you to arrive for our appointment exactly on time. Not early, and certainly not late. There are plenty of pubs and cafés in the area for you to wait in if you arrive before our allocated meeting time. Do not wait outside of the dungeon – it is in a residential area, and privacy is key.
If you believe you may be late to our appointment, you must let me know as soon as possible by email and/or by text or phone-call. If you cannot get hold of me, you may try contacting via The Oubliette's line. Once 15 minutes have passed, I will be obliged to start deducting time from our appointment. If you leave me to wait around for you without any warning of your late arrival, I will assume that you are not coming and leave the premises.
I believe in the importance of after-care, but I also respect that some people are not looking for this additional time with me after our appointment. If you think that you would like some time to unwind with me after our appointment to enjoy a drink and a chat – be it a kind of 'debriefing' or something entirely different, please do let me know and I will happily arrange this.
Shower facilities can be made available by prior arrangement.
Please do try to arrive clean and smelling nice. If you would like pegging, I would ask that you douche before our meeting.
​
I will not disrobe during any sessions – I operate in a strict naked male clothed female scenario. There will be no exceptions to this rule.
I do not tolerate 'topping from the bottom' and if I feel that you are perpetrating this or any other kind of rude behaviour, I withhold the right to terminate our appointment. 
I withhold the right to send away any individual that arrives at the dungeon that I deem under the influence of any drugs or alcohol.