FREQUENTLY ASKED QUESTIONS
Do you have your own facility?
I work from a gorgeous, newly renovated dungeon called The Oubliette. I am a resident dominatrix at The Oubliette.
I haven't received a reply from you, why is that?
I maintain my website and all of my social platforms solely by myself and I am constantly inundated with messages and emails. It can take a long time to reply to each message individually. Although I do aim to reply within 72 hours, naturally this isn't always possible, and it can occasionally take a little longer.

Additionally, a lot of emails get filtered into my 'spam' folder, which I only check sporadically.

Ensure that you use the correct application form and that you put thought and time into your email. If your email is vulgar or careless and threadbare, I will not reply to you. For your ease I have supplied some simple etiquette rules above the application form – if you follow these rules and make a concise effort to come across as genuine, there is no reason that I will not reply.
Why do I have to pay a deposit?
It takes a lot of time and effort to ready myself and my play-space for an appointment. I have to pay for my time at The Oubliette, and I am no longer willing to waste rental money only for clients not to show up. The deposit covers the rental of The Oubliette, nothing more.

There are absolutely no exceptions to my deposit system.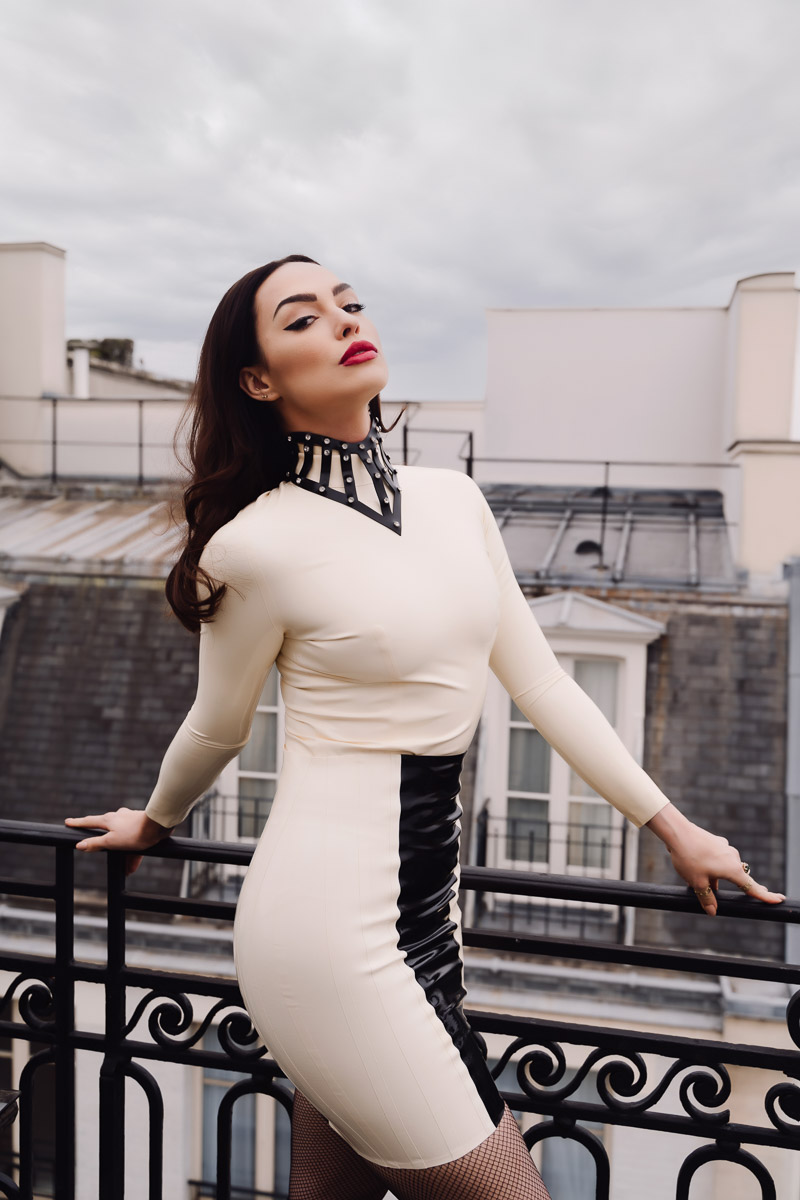 "If the moon smiled,
She would resemble you.
You leave the same impression
Of something beautiful, but annihilating."
– Sylvia Plath
Do you cater for out-calls?
Largely, the answer to this is no. I will occasionally provide out-call appointments for clients I know and trust that are willing to cover all expenses, but it is very rare indeed.
Do you play with women?
Yes. I would describe myself as pansexual. I am happy to play with anyone regardless of gender.
Are you willing to see couples?
Absolutely. I am always happy to see couples, either as a mentoring role or as an active participant in the whole session or individual scenes.
Can you provide a sub for me to play with in-session?
Yes. With advance notification, I am able to organise either a cis male, a cis female or a post-op female sub to join us in session. Additional costs apply.
Do you offer 'full service' sexual acts?
Whilst I both respect and celebrate the fact that some providers may choose to offer full service activities within their sessions, I do not. I work in a strictly CFNM environment and I will not engage in any activities that are not listed on my 'appointments' page.
Will you switch?
I am a natural dominant. I will never engage with anybody as anything other than what I am – a dominant woman.
Can you wear an outfit for me?
I will wear whatever I find sexy, comfortable and empowering. I understand that the involvement of material fetishes can be of utmost importance to some, and so I will always happily consider polite outfit suggestions as long as the outfit is functional for the kind of appointment you want. Be mindful however as I do not appreciate a 'build-your-own-dominatrix' approach to sessions. I am not a performing monkey.

If you wish me to wear an outfit that I don't already own, you are welcome to purchase an outfit of your choice for me to wear in our appointment and post or deliver it to me ahead of time (as long as it is appropriate and I have given you the go ahead).
Do you provide after care?
Of course. As standard, I always offer my clients a short period of time to sit, reflect and recover with a hot drink at the end of our time together. I am happy to engage in friendly chat and 'debriefing' as I take care of things in the play-space. If aftercare is of particular importance to you, I am happy to schedule in extra time to ensure your needs are met so you leave feeling fulfilled and happy.
Can I meet you before we session together?
If you are willing to pay for my time, I am always happy to meet potential clients at The Oubliette before we session together, be that immediately before we session or a couple of days prior.
Can I chat to you before we start our session?
I usually begin my session as soon as my client arrives as this feels more authentic and natural to me, however, if you are nervous and would like to chat for a few minutes before we begin, I am happy to do so, just let me know in your application.
I am a complete novice, what do you recommend?
I am always happy to see newcomers to the scene. I believe it is very important for your first time to be experienced with somebody you trust, or a professional in a safe and clean environment. I will listen to your limits, as with all of my clients, and try a few different things with you and gently push you in areas that I can see resonate with you. You will always be given a safe-word if you ask for one, and I will never make you do anything you are not comfortable with. I operate by instinct and have a natural empathy, I am normally able to tell by body language or expression if something isn't quite to a persons liking, and can modify quickly.
Do you offer same-day sessions?
No.
Can I arrange my appointment on the phone?
I conduct my whole application process via email. There are many reasons for this, but mainly it is because I find it to be the best forum for in-depth conversation. It is easy to forget things on the phone, etc. I am happy to chat with you on the phone if it is at all necessary, but I will not indulge you in any pre-session fantasy chat. If you wish for this, you can call me on a paid line.
Will you meet me for dinner or coffee?
If you are willing to undergo my screening process and pay for my time and expenses, I would be happy to.
Am I able to shower at The Oubliette?
Yes of course, but you must let me know in advance for this to be arranged. The Oubliette often hosts people exploring their kinks overnight, and so cleaning needs to be arranged to ensure that the shower room is kept clean and fresh for our stayers. Charges may apply.